KIY AVIA - a participant of the tourism fair TTG Incontri 2018 in Rimini
Nov 12, 2018, 12:15:00 PM

KIY AVIA became the participant of the main international B2B fair on tourism in Italy - TTG Incontri 2018 due to invitation of the Italian low-cost airline, Ernest Airlines.
It took place on October 9th to 11th.
KIY AVIA presented the tourist potential of Ukraine, demonstrated a wide range of national travel services at this event.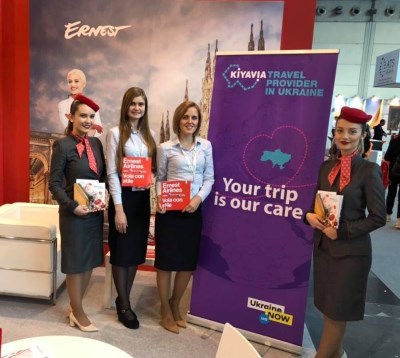 Mission of the company KIY AVIA
is to discover Ukraine to the world. We must inform foreign partners about new opportunities for building business relationships and expanding the boundaries of their businesses. We took the responsibility to demonstrate the attractiveness and authenticity of Ukraine for private tourists around the world. It is predicted that there will be an increase in tourist flow to Ukraine due to the launch of direct flights Ernest Airlines from seven cities in Italy to Kiev and Lviv.
Keep in mind that TTG Incontri is a valuable event for all professionals in tourism sector, to understand market performance, sharing experiences, analyzing trends, demonstrating new products.